In Loving Memory of Gogi Hodder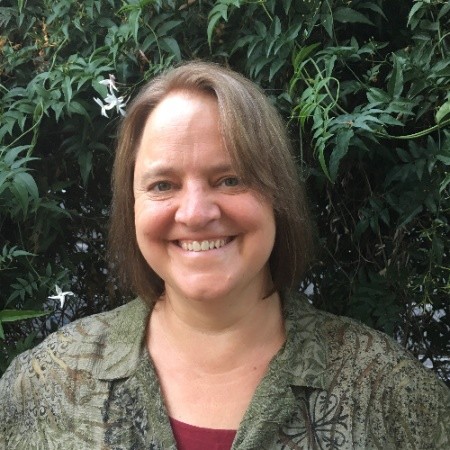 Gogi Hodder
April 25, 1968 – January 16, 2021
Margaret Joan ("Gogi") Hodder passed away on January 16, 2021, at the age of 52, of cancer.
Gogi was born in Truckee on April 25, 1968 and spent her childhood in Turlock dancing ballet, playing tennis, and riding horses. Her family traveled extensively throughout the US, as well as visits to British Columbia and western Europe, especially to visit the Hodder relatives in Dorset. In her junior year of high school, Gogi was an AFS student to the French-speaking part of Switzerland, where she fell in love with her host family and the country.
Gogi graduated Stanford University in 1991 with an individually designed major in Russian Studies. While at Stanford, she was a resident assistant at Slavianskii Dom. After participating in The Game (a Bay Area-wide treasure hunt), she became one of four members of the first all-women's game control team.
Gogi had a career in handling professional liability claims with NORCAL Mutual Insurance Company and BETA Healthcare Group, but her passion was always nonprofit work. Along with Lara Mendel, she co-founded the Mosaic Project, a nonprofit organization with a mission of teaching people, ranging from elementary school students to adults, the skills they need to build a peaceful, just, inclusive community.
She also helped to incorporate several nonprofits, including Voices Lesbian A Cappella for Justice, where she served on the board of directors for many years.
Over the past few years, Gogi worked as Director of Finance at Building Futures with Women and Children, and helped guide Centro Legal de la Raza and other agencies through Shining Star Consulting. In 2019, she started work as an Associate Management Analyst in the Planning Department's Office of the Director at the City of Berkeley.
Gogi was active for many years in teaching self-defense classes to women and children through organizations including Women Defending Ourselves, Women's Safety Project, and Alive and Kicking, as well as independently. She taught regularly throughout the 1990s and served on the board of Women Defending Ourselves in the late 1990s. Afterward, while working on Mosaic, she taught a few classes to fellow preschool parents, church youth, and others.
She forged her own paths in life, not just following the expected ones. One of the most rewarding paths for Gogi was her living situation, affectionately referred to as "the compound," in which Gogi's family was one of three families living together collaboratively in a fourplex in Berkeley, California. Gogi was the "newbie" in this arrangement, which she "lucked into" by marrying Sheri, who already lived there. The three families formed an informal cohousing situation to which everyone committed themselves long-term. As Gogi put it, "We are more than neighbors and friends, and yet there are no accurate words for what we do and who we are to one another. Perhaps the best we have is god-family." In Gogi's cancer journey during COVID, the compound provided invaluable primary care and support, logistically, spiritually, emotionally, and physically.
Through the compound, Gogi also came to join the First Unitarian Church of Oakland, where she found spiritual depth and a vibrant community, forming many friendships.
Gogi traveled a lot throughout her life and formed many valuable and enduring friendships around the world, most importantly with her Swiss family and friends in Costa Rica.
Gogi was the sort of person who could believe in six impossible things before breakfast, and then make them happen. She was an eternal time optimist – there was always so much she wanted to get done and so much she believed she could do – and then she did it. She faced cancer with the same grace, openness, thoughtfulness, intelligence, courage, and organizational prowess that she brought to the rest of her life, gathering family and friends around her, organizing projects and completing checklists, and always prioritizing connection with the many people who love her.
Gogi is survived by her parents (Janet Marie Blaha Hodder and Alfred A. Hodder), brother (Richard Alfred Hodder), and sister (Mary Hodder); her wife of 16 years, Sheri Prud'homme; and her children Noah Hodder Prud'homme and Nico Hodder Prud'homme. She is also survived by numerous other family and friends, including the other members of the compound: Laila Ibrahim, Rinda Bartley, Kalin Ibrahim-Bartley Brooke and husband Mitch Brooke, Maya Ibrahim-Bartley, Kathy Post, Dan Goss, and Dash Goss-Post.
In lieu of flowers, memorial gifts may be made to the Gogi Memorial Fund of The Mosaic Project, 478 Santa Clara Ave. Suite 200, Oakland, CA 94610, www.mosaicproject.org/donate. (Please write "Gogi Memorial Fund" in the comments box.) As Gogi wrote in her final post:
"The Mosaic Project was my answer to creating peace: bringing people together in a positive way to understand and befriend one another, work well together, and solve conflicts productively. Mosaic was my first child and my life's work. So if you are looking for a way to honor my legacy and support it continuing, please consider contributing. THANKS to all who have donated and to those considering making a donation! I am extremely grateful!"
Please join us on Zoom on Sunday, February 21, 12-1:30 p.m. PST to love, remember, grieve, and say goodbye to Gogi Hodder. For details and to RSVP, see https://everloved.com/life-of/margaret-hodder/.