A Powerful Conversation with Marvel Head Writer Chinaka Hodge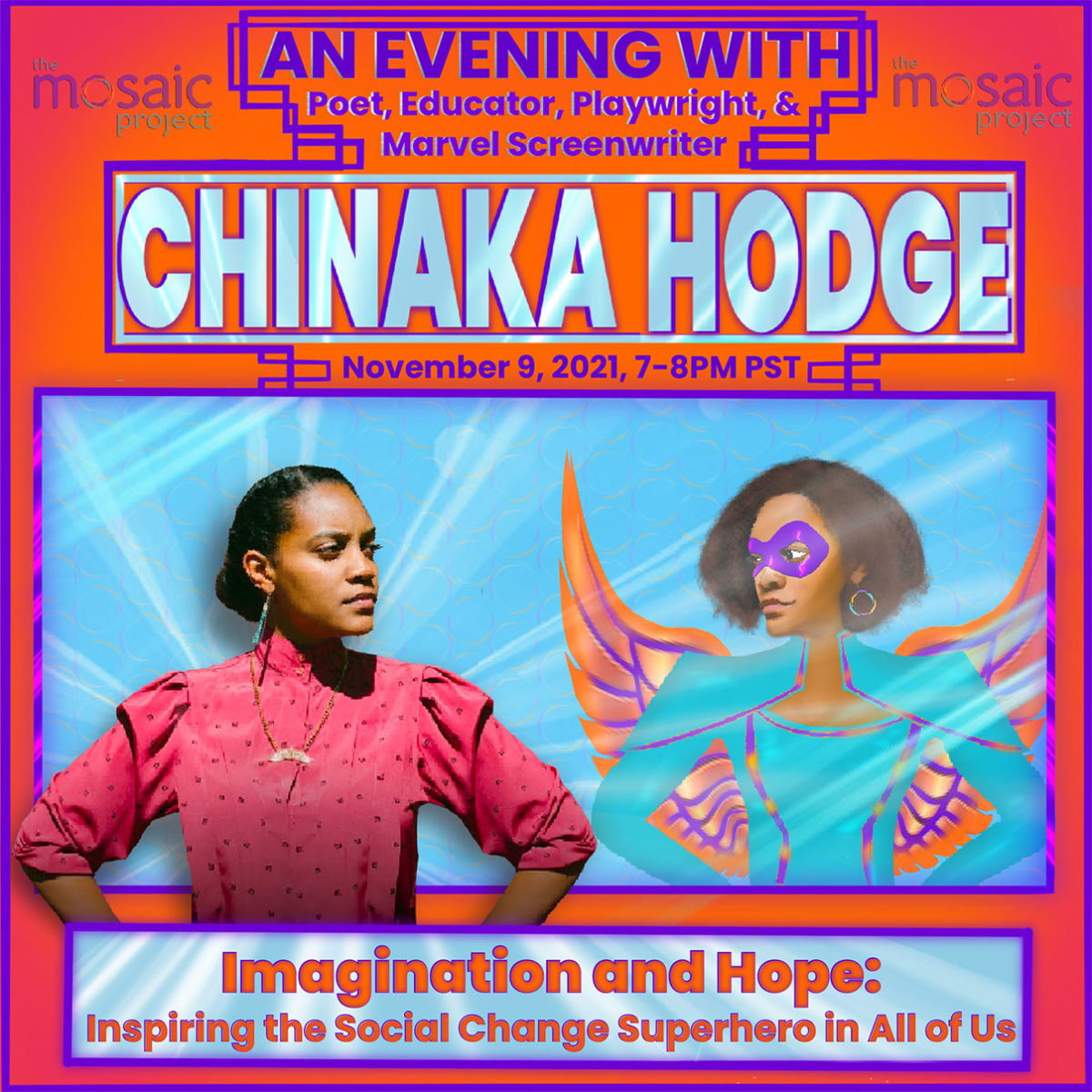 Tuesday, November 9, 2021
7-8pm
Join Chinaka Hodge, Head Writer of the new Marvel Disney+ series, IRONHEART, in conversation with Mosaic Board Member Kara Murray-Badal. Drawing on their shared passion for inspiring young activists, Chinaka and Kara will explore Hodge's experience with IRONHEART, the importance of diverse representation in media, and her journey with storytelling as a tool for inspiring social change. While this is a free, family-friendly event, it is also a fundraiser for The Mosaic Project's youth programs. We welcome donations!
In addition to the conversation, you will experience:
A reading of Chinaka Hodge's poems.
How The Mosaic Project also inspires social change superheroes.
An audience Q&A with Chinaka Hodge.
About Chinaka Hodge
Born and raised in Oakland California, Chinaka Hodge is an accomplished poet, educator, playwright and screenwriter. She received her BA from NYU and studied Writing for Film and Television at USC's Graduate School of Cinematic Arts under the prestigious Annenberg fellowship. She is a founding curator of Brave New Voices, the National Teen Poetry Festival, as well as a co-founder of Life is Living, West Oakland's interdisciplinary arts festival.
Chinaka has served as Program Director and Associate Artistic Director at Youth Speaks and The Living Word Project. She was Visiting Editor at California Sunday Magazine, a Senior Fellow at YBCA, and served on the Board at Headlands Center for the Arts. Chinaka's performances have been featured by TEDWomen and ACLU National. She has published 3 books, including her 2016 poetry collection, Dated Emcees.
Her writing for TV credits include NBC's RISE; AMAZING STORIES for AppleTV+; SNOWPIERCER for TNT/HBOMax and Netflix's THE MIDNIGHT CLUB. Her most recent credit is as the Head Writer of Disney's IRONHEART. It tells the story of child genius Riri Williams, who reverse engineers Iron Man's suit to create her own. As a new mother, Hodge is especially excited for Riri to inspire the social change superhero in young girls!