Evaluation is critical to measuring the success and to the continued improvement of our programs. We make changes to our programs based on the feedback from our participants and insights from our staff.
Alumni Survey
Since 2010, The Mosaic Project has been surveying alumni who participated in Mosaic's Outdoor Project as 4th/5th graders five or more years ago about the long-term impact the experience has had on their lives. The responses have been overwhelmingly positive. [Read the 2010-2016 survey results here.]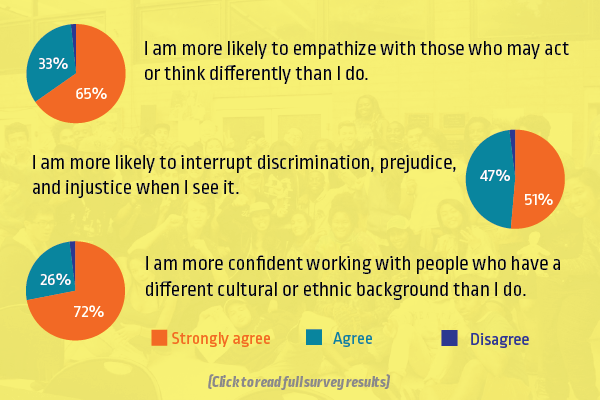 Participant surveys
Students are assessed for their affect, experience, and understanding of key concepts and skills on the last day of their Outdoor Project experience. There is also a complementary suite of surveys taken by teachers, families, and Youth Leaders after the Outdoor Project session. Results have demonstrated that our program increases the abilities of our students in the areas of empathy, conflict resolution, anger management, and identification of discrimination, as well as increases students' self-esteem, contentment with school, appreciation of difference, and visioning of the future. [Read a 2007 analysis.]
Stickiness
The Mosaic Project has an incredibly high percentage of alumni that stay involved in the organization. Approximately half of our current Youth Leaders are former students of the Outdoor Project, 15 4th- 9th grade alumni serve on our Children's Board of Directors, six Youth Leaders serve on our Youth Board of Directors, 35 Youth Leaders have become Outdoor Project staff, six have become year-round staff, and four have become members of our adult Board of Directors. Alumni become leaders not only in The Mosaic Project, but in their schools and larger communities. As they carry their Mosaic lessons with them, their impact is exponential.
Testimonials
"When I attended Mosaic in 5th grade it changed my life. I think Mosaic was the starting point of my growth as a person." — Hileena, age 16, former student
"Empathy has the power to unlock secrets to more effective schools, longer, healthier relationships, and just plain old quality interactions… that dream, and the power to make it happen, is what I learned at Mosaic." — Severin, age 19, former Youth Leader
"Mosaic gave me the opportunity to see, appreciate, and accept the diversity that I would experience later in life." — Nina, age 17, Youth Leader
"Mosaic is a peaceful, safe environment and it helps people be free and spread out their wings. That's why I want to be a Mosaic Cabin Leader when I'm 15 because I was really really shy at first. I never really spoke up for stuff but ever since I got to Mosaic I became like a pretty flower that bloomed. I never felt so good to be free." Angelyssa, age 9, student