Community Fundraising Brunch 2021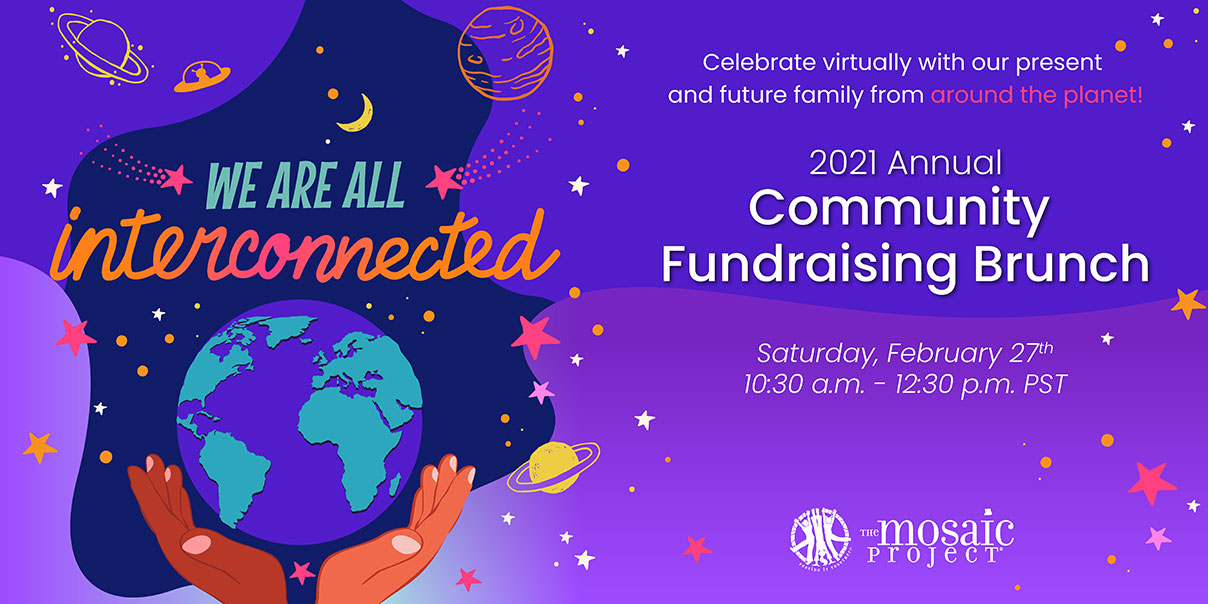 Saturday, February 27th, 2021
10:30am to 12:30pm
At The Mosaic Project, we believe in the power of connection. This is relevant every year, but especially now. That is why we are so excited for you to join us for THE event of 2021: Mosaic's Annual Community Fundraising Brunch. Get ready for this truly unique virtual extravaganza – an international family reunion.  We will celebrate our present and future Mosaic family from around the world!
10:30-11:00 am PRE-PARTY ON GATHER
Connect with old and new friends on this fun, interactive virtual program. Think video game meets Zoom.
Explore a virtual model of the future camp we are creating in Castro Valley.
11:00-12:15 pm MAIN PROGRAM (Enter through Gather or directly through Zoom.)
Journey into our transformative work guided by students, teachers, and community members who have been deeply impacted and inspired by The Mosaic Project.
Enjoy "game-tivities", songs, and stories.
Learn about our plans for 2021 and beyond.
12:15-12:30 pm POST-PARTY ON GATHER
Enjoy exploring the virtual camp some more with your old and new friends.
For the past 20 years, The Mosaic Project has been teaching people the tools needed to build more just, inclusive, peaceful communities. Given the last year, our society needs Mosaic now more than ever. This is the time to get involved! Reaffirm your commitment to a peaceful future by registering for the Brunch today.
(Looking to sign up as a Table Captain? When you register, simply choose table captain as your role.)
While this is a free event and there is no obligation to make a donation, it is our hope that our amazing program will inspire our guests to make a contribution that is personally meaningful to them.
We are immensely excited to celebrate with you on February 27th at this truly unforgettable Brunch!