Community Fundraising Brunch 2023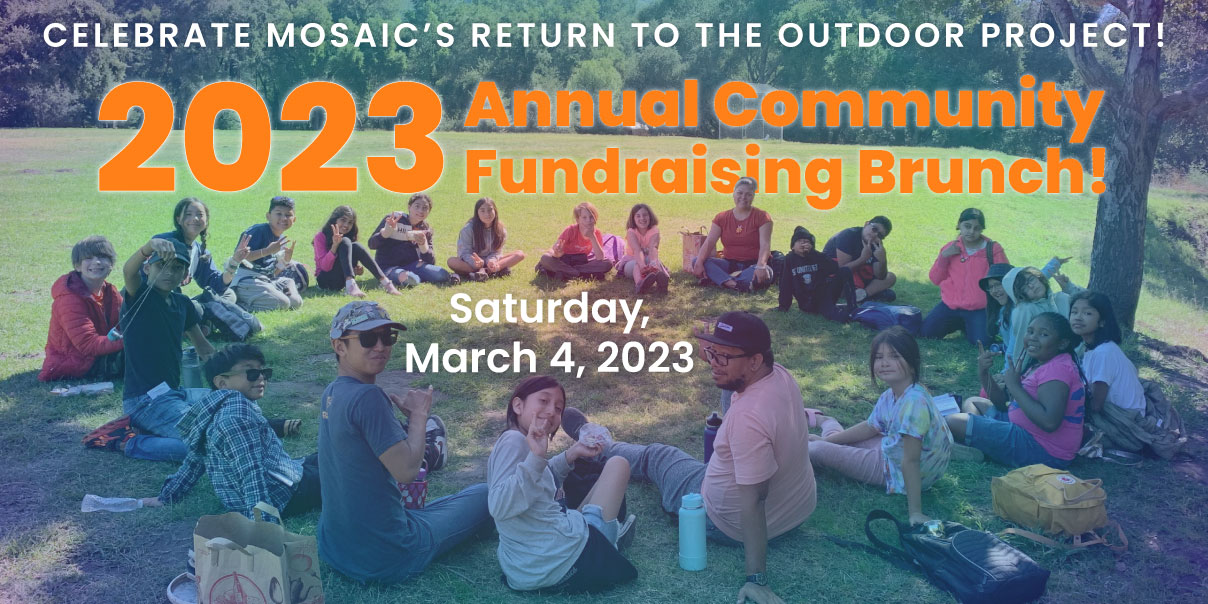 Celebrate the return to the Outdoor Project virtually or with friends!
We are excited to invite you to our 2023 Annual Community Fundraising Brunch! We are immensely proud of everything we accomplished together during our time away from the Outdoor Project due to the pandemic. But as we were reminded this fall, nothing compares to the powerful magic of a week in the Mosaic Woods.
Please join us to celebrate and learn more about this transformational experience! There are three ways to participate in this year's event:
Attend on Zoom.
Host your own in-person Brunch Watching Party for your friends, family, and colleagues at your home! We will send you Mosaic-themed brunch recipes as well as decoration ideas.
Attend someone else's Brunch Watching Party. If you are looking for one in your area, just let us know and we'll hook you up!
No matter how you decide to attend, please register and select the appropriate ticket. 
This virtual extravaganza will include:
Firsthand accounts of the Outdoor Project's impact from different generations of participants.
Personal interactions with current and future Mosaic family members.
Exciting updates on our progress toward the creation of our own permanent home in Castro Valley.
Mosaic gametivities!
Live music played and sung by Mosaic's Resident Rock Stars and our Children's Board of Directors.
Schedule of Events
10:30am-11:00am: Pre-Party at our Virtual Camp on Gather
Explore a virtual model of the future camp we are creating in Castro Valley. Connect with old and new friends on this fun, interactive virtual platform. Think video game meets Zoom.
11:00am-12:30pm: Main Program (enter through Gather or directly through Zoom.)
Enjoy music, gametivities, and stories of Mosaic magic!
12:30pm-as long as you'd like: Post-Party on Gather
Continue to explore the virtual camp and connect with your old and new friends.
While this is a free, family-friendly event and there is no obligation to make a donation, it is our hope that our amazing program will inspire our guests to make a contribution that is personally meaningful to them.
Thank you for your unwavering support through the pandemic. We cannot wait to celebrate our return to the Outdoor Project with you on March 4th!
M is for Mutual-Respect Mo-mo-mosas!
by Sandra Martin-Dent Special Projects Director
Combine in a glass:
1 part freshly squeezed

orange juice

, chilled
2 parts champagne or prosecco, chilled
orange slice as garnish
Variations:
add a splash of triple sec (optional)
alter the proportions of juice-to-alcohol to your taste
muddle berries along with the juice, then strain before pouring into the glass and garnish with a berry and mint leaf
add a splash of another flavor like pineapple, grapefruit, or cranberry juice
O is for Openminded Oatmeal
by Luke Hodder Prud'homme Intern
1/3 cup rolled oats
2/3 cup water
pinch of salt
1/2 apple, chopped
Cinnamon to taste
Milk to taste
Recommended: brown sugar, coconut, nuts, seeds, raisins
Add oats, water, salt, apple, and raisins (if using) to a pot and bring to a boil. Cook for 2 minutes, then turn off the heat and let sit for 5 minutes.
Stir in cinnamon, milk, and any other add-ins of your choice.
Enjoy!
S is for Self-Respect Blueberry-Raspberry Smoothie
by Brian Lowe COO
Yield: 2-3 servings
1½ cups of Blueberries
1 Cup of Raspberries
1 large frozen banana
2 teaspoons of flax seed
1½ tablespoons of Almond Butter
1½ cups of ice
¼ cup milk (or blend to preferred viscosity)
24 grams whey protein powder (optional)
Blend to a fine puree.
You may need a spoon to serve straight from the blender!
A is for Awesome Attitude Avocado Toast
by Mika Abair Administrative & Outreach Director
Yield: 1 serving
Olive oil
2 slices sourdough bread
1-2 avocados
1 small lemon
2 large eggs, room temperature
(Garlic) salt, black pepper, red chili pepper flakes + spices of your choice
The Avocado:
Toast your bread to your liking in the toaster or oven
Cut and scoop the avocado(s) into a bowl
Squeeze a squirt of lemon
Add a sprinkle of (garlic) salt and black pepper
Smash the avocado with a fork to your liking; chunky or smooth
Spread a bit of olive oil on your bread
Add avocado spread to bread
The Egg:
Make your egg to your liking; scrambled, over easy, poached
Season it with spices of your choice
Top your avocado toast with your egg
Sprinkle some (garlic) salt, black pepper, and red pepper flakes on top
Can add additional toppings to your liking
Suggestion: Everything but the Bagel seasoning *chef's kiss*
There you have it! Your Awesome Attitude Avocado Toast
I is for Individuality "I Love Potatoes!" Hash
by Rebeca Pessoa Program Director
Yield: as many servings as you make!
Olive or Avocado oil
Garlic, minced (Beca suggests 3+ cloves!)
Onion, chopped into small pieces
Mix of potatoes, cut into small cubes (Sweet potatoes/Yukon Gold/Russet/Fingerling potatoes—whatever is your favorite kind!)
Bell pepper, chopped
Baby spinach
Cumin
Ground Coriander
Paprika
Black pepper
Salt
Feta cheese
Eggs
Fresh Parsley or Cilantro, chopped
Heat the oil in a skillet, add the onion and garlic. Cook until the onion softens and garlic is browned.
Add the potatoes and cook until the edges of the sweet potato are browned. Stir often to avoid burning. You can also put the lid on the pan for the potatoes to cook faster. Once the potatoes are tender add cumin, coriander, paprika, salt, pepper, and any of your favorite spices. Stir well then cook for a minute until the spices release their aromas.
If the pan is getting dry add 2 or 3 tablespoons of water.
Now add the bell pepper. Give it a little stir once or twice so that the sweet potato doesn't stick to the bottom of the pan.
Meanwhile, fry the eggs in a separate pan or scramble them in with the potatoes.
Add the spinach last, and once it's wilted, your dish is ready to serve!
Divide the sweet potato mixture between plates. Crumble the feta over the sweet potato hash, top with the eggs if fried, and serve with fresh parsley or cilantro on top! Enjoy!
C is for Community Crust-less Broccoli and Cheddar Quiche
by Tari Nicholson Board Member
Yield: 8 servings
3 cups small broccoli florets (from about 1 head of broccoli)
About 10 oz sliced mushrooms, sautéed with ½ diced onion + any other leftover veggies
1 cup shredded Cheddar cheese
1 cup milk
⅔ cup heavy cream
6 eggs
1 pinch nutmeg (optional)
1 t. salt (optional)
Preheat oven to 350°F. Butter a 10-inch glass pie plate or equivalent.
Cook broccoli in a large pot of salted boiling water until crisp-tender, 1 to 2 minutes. Drain, rinse with cold water, pat dry and scatter over the bottom pie plate. Layer the cooked veggies and scatter cheese evenly over top.
Whisk together milk, cream, eggs, (nutmeg), salt and pepper until smooth, then pour over cheese. Bake until custard is just set in center, 35 to 40 minutes. (Don't worry if the center is trembling a little; it will cook a little more as it cools.)